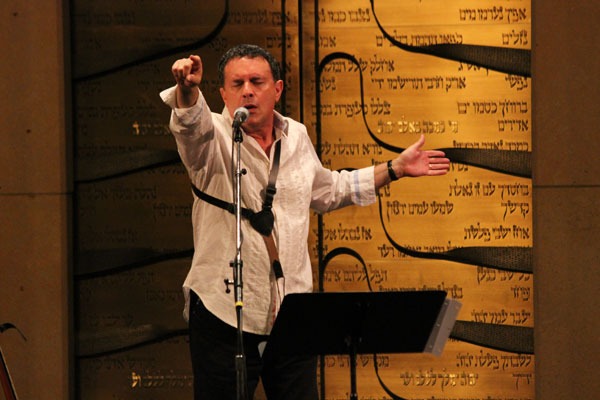 Born in Israel to American parents, Danny first came to the United States to star on Broadway in 'Only Fools Are Sad.' A playwright, actor, singer and composer, Danny has served as Evaluator of New American Plays/Opera-Musical Theater for the National Endowment for the Arts, as the Director of the Spielberg Fellowships for the FJC, as Spiritual Leader of URJ congregation Agudas Achim in NY and as Cantor of Temple Israel of Hollywood in California. Danny is most excited to now be the Chazzan and Spiritual Leader of Makom LA, a newish,Jewish, dynamic, post-denominational community, in Los Angeles.
Danny's critically acclaimed off-Broadway musical 'Wasting Time with Harry Davidowitz: The Musical Journey of a Jewish Soul,' along with his innovative 'Soul on Fire' and 'Let There Be Light' productions, are just three exciting projects that have earned Danny accolades.
Danny is also one of the most popular and respected composers of contemporary Liturgical and Synagogue music. He has been the invited guest of the American Conference of Cantors, the Cantor's Assembly, as well as the Jerusalem Symphony Orchestra. His compositions are sung worldwide, with a recent Disney Hall appearance by the renowned Pink Martini, who performed Danny's Elohai N'tzor, and a Carnegie Hall premiere of his 'Bring on the Light' by the New York Youth Chorus.
Danny has been the Patron Artist of the Avraham Geiger School for Cantorial Arts in Berlin, Germany. Danny's essays, writings and poems, have been included in recent books by leading Jewish rabbis and scholars, including 'Naming God' by Rabbi Lawrence Hoffman, 'Jewish Men Pray' by Rabbi Kerry Olitzky, and 'A Dream of Zion' by Rabbi Jeff Salkin.
Danny has been featured in a number of documentary films including the popular 'Hava Nagila,' and 'The Other Men in Black.'
Danny has had a long and celebrated career with appearances on television (Law and Order), Broadway, and film. His books include the novel 'Apollonia', 'The Passion, the Beauty, the Heartbreak:The History of Israel Through Music and Poetry', 'Spiritual Cooking in the Time of the Plague.' Danny has also created 'Black Milk,' an Oratorio about poet Paul Celan.
Danny has been a faculty member for major organizations including Limmud, JCM, Elat Chayyim, The Wexner Heritage Foundation, and is deeply involved in interfaith dialogue. A much sought-after Scholar/Artist-in-Residence, Danny travels the world, inspiring, teaching, and rekindling the love of Judaism through Torah, Hassidut, Jewish Culture, and the Arts.